As a leading manufacturer of deep hole drills, Sterling Gun Drills continues to build our reputation for personal service and practical solutions for production requirements, large and small. We match the correct drill, standard or special, to the intended material and application.
Our customers can depend on us for prompt, efficient response and quality products that attest to our expertise in engineering and manufacturing. As part of our scrupulous inspection procedure, we test 100% of our drills .375" and under for assembly integrity, leakage, and specified oil flow.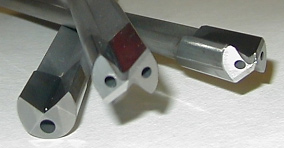 Our Mission:
To provide our customers with the finest gun drills and the best technical support, at the most reasonable price.
Great Stock
We stock over 600 gun drill sizes and offer quick delivery specials for all your applications on gundrilling equipment and manual or CNC machines. We also sharpen and recondition gun drills of any manufacture.
Expert Technical Applications Engineering!
Gun drill on manual and CNC lathes and mills! Gun drill all types of metals, woods, composites! Optimize performance on gundrilling equipment! Contact Doug Holley with any question regarding your application.