Solid Carbide Flute, Single Flute Gun Drills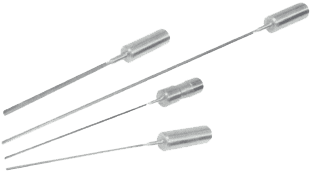 One piece carbide tip and flute gun drills offer the advantage of strength and rigidity over tubular construction drills, and with it, better overall performance. Solid flute gun drills are manufactured in the USA at our facility in North Bennington, Vermont and are available in diameters from .0450" to .1600" with overall lengths to 13.5"*. While most applications that use this style gun drill require specific diameters and lengths, we do stock fractional diameters in 6" and 10" overall lengths. We are proud to introduce a program which allows expedited delivery (smaller lots, please!) with a choice five day 'RUSH' delivery or 3 to 4 week standard delivery for any diameter and length combination listed above, as outlined in more detail here. A small premium applies for the expedited service. Our solid carbide flute gun drills are manufactured to international standards with inch and metric drivers, 30° x 20° or 40° x 30° "facet" nose grind, and a "D" or "teardrop" coolant hole where applicable to the diameter.
* Including 1 1/2" long driver on larger diameters.
Applications
Medical instruments, automotive fuel systems, the glass industry, and many other applications can benefit by gundrilling very small holes with solid carbide flute drills. The strength afforded by the absence of a braze joint at the tip with tubular construction gun drills provides better penetration rates and tool life. However, gun drills of such small diameters require that the specific operating parameters are followed to ensure success. We are pleased to offer expert application engineering to make this happen.
Support for Longer Length, Solid Carbide Flute Gun Drills
Learn About Solid Flute Specifications