TWINMASTER™ Drills
The TWINMASTER™ two flute deep hole drill is a technologically superior, solid carbide tipped, tubular construction drill manufactured to any diameter from .20" (5 mm) to 1.00" (25.4 mm), with overall lengths to 36" (915 mm).
The TWINMASTER™ drill offers a choice where the extreme accuracy of a single flute drill is not required, but a better penetration rate (and certainly a better method) than twist drilling is desired on virtually any machine tool and gun drill machine. The advanced tip geometry and chip clearance advantage allow deep hole drilling in a wide variety of materials not in just the "gray cast iron or free chipping nonferrous material" as limited by competitor's drills. Typical accuracy on standard machine tool applications should maintain .002" on diameter and better than .002"/inch straightness, with good surface finish. Better accuracy can be achieved on gun drill machines. Optional surface coatings include TiN, TiAIN, and others.
Sterling Gun Drills offers a resharpening service with quick turnaround for all TWINMASTER™ drills as well as half round drills and gun drills of any manufacturer. Retipping is also available at substantial savings.
Rota-V™ Brazed Joint

This innovative feature rotates and angles the brazed surfaces of the tip and tube at 45 degrees, providing back up to the carbide tip that greatly enhances its strength. Testing showed such a positive lock that even an unbrazed example was able to drill through solid steel... try that with any competitive tool!
Applications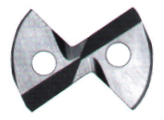 The TWINMASTER™ drill is designed for use on either gun drilling machines or standard machine tools with high pressure oil, coolant, or our spraymist system. Drill features are coordinated with application requirements. For example, driver's sized for the tool holder or spindle, drill overall and flute length to suit, and tip grinds specific to the material and machine to achieve the application requirements. Coatings may be recommended to enhance tool life or improve surface finish. Refer to Sterling Gun Drills' Universal Speed and Feed Chart for single and two flute drills, speeds, feeds, and other machine parameters. Call 1-888-338-1049 to speak with Sterling Gun Drills engineering for more detailed information.
Ordering Information

Required Information to Order:
Drill Diameter
Drill Overall Length
Driver Style
Any detail, i.e., machine type, coolant pressure, tolerance, etc., is helpful for proper drill specifications.
FLUTE LENGTH
(maximum drill depth)
Drill diameter
Flute run out
Inch
mm
Inch
mm
.20
5
.70
17
.40
10
.90
23
.60
15
1.10
28
.80
20
1.25
32
1.00
25
1.40
35
Flute length = OAL - (driver + flute run out)
Standard Drivers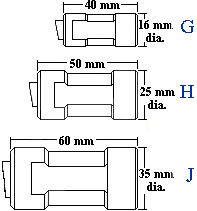 Drill Diameter Range for Standard Drivers
B or G .197" (5 mm) - .500" (12.7 mm)
C or H .501" (12.8 mm) - .750" (19.1 mm)
D or J .751" (19.2 mm) - .25.4 mm)
Non-standard drivers can be made to order.

TWINMASTER™ - Regrinding Information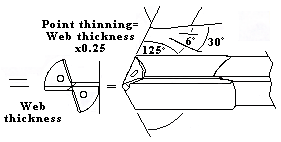 TWINMASTER™ two flute drills can be resharpened many times, maintaining optimum performance. Used up drills or damaged drills with good tubes can be retipped. The grind can be reproduced on universal tool and cutter grinding equipment; this diagram shows basic geometries. Sterling Gun Drills offers regrinding services with next day turnaround.