Gun Drills and Half Round Drills
Gun Drills and Half Round drills are three piece assemblies consisting of a solid carbide tip, an aircraft alloy formed tube shank, and industry standard drivers sized to allow use of available toolholders. The off-center point configuration and hollow core allow the drill to produce precision and/or very deep holes on standard or CNC machinery.
Gun drills and Half Round drill have a solid carbide tip that cuts on one side of the hole. Thrust forces are greatly reduced compared to twist drills and are transferred to the pad or pads on the drill tip's rear periphery. This creates a burnished finish when used with a lubricating mist. The drill tip's outer and inner cutting edges cause chips to split into two separate coils. The coils converge upon themselves, breaking up further into smaller pieces. Air pressure and lubricant from the Spraymist Kit clear the chips, forcing them back along the open side of the gun drill or half round drills flute section.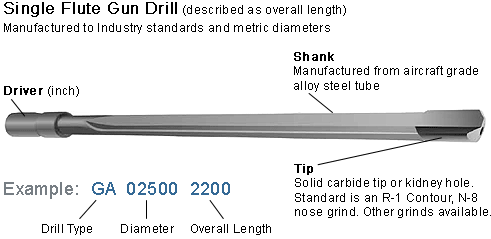 Gun drills and can be ordered by specifying drill diameter and overall length. We recommend a diameter range of about 1/8" to 1 ½" diameter for use with our Spraymist System. Gun drills above 1" should be ordered with inner tubes to maintain the atomized mist. In addition to 600 in-stock gun drill sizes that also include number, letter, and metric sizes, special diameters, lengths, drivers, step drills and special form nose grinds can be made to order. Standard gun drill nose grind - contour is R-1 / N-8. See our gun drill Nose Grind - Contour chart for additional choices for specific applications.
Half round drills are ordered by specifying drill diameter and flute length. See the Half Round Drill Sizing chart for available diameters, lengths, and driver sizes.
We offer a complete range of stationary and rotary toolholders and reduction sleeves, as well as spraymist kits, lubricant, and regrinding systems to complete a total deep and precision hole drilling package!
The Deep Hole Drilling System Setup Procedure
The gun drill and half round drill standard drill point position is offset to 1/4 of the drills diameter. This does not allow the drill to start unless guided by either a gun drill bushing or a pilot hole. On conventional machinery, a pilot hole is usually the most practical.
Should you have any questions regarding materials, speed and feed, machine application or operation, contact Sterling Gun Drills for assistance.
| | |
| --- | --- |
| Step 1) | Mix lubricant at 10:1 ratio in a separate container then fill up the reservoir. |
| Step 2) | Prepare a pilot hole for the gun drill or half round drill to a diameter of +.001", -0, by 1/2 to 1 diameter deep. If tolerances require, keep the pilot hole diameter closer but NEVER undersize. NOTE: Standard gun drills are not measurable, prepare the pilot hole as above to the label diameter. |
| Step 3) | Secure the drill in a toolholder mounted in the spindle, turret, or toolpost true to the part or spindle centerline. Connect the nozzle from The Spraymist Kit to the male fitting of the toolholder, or transfer block on a CNC. |
| Step 4) | Connect the Spraymist Kit to shop air at 100-120 psi. Select the proper drilling parameters from the Sterling Gun Drills Speed and Feed chart. |
| Step 5) | Insert the drill tip into the prepared pilot hole just short of the bottom. Start the spraymist by opening the slide valve. Adjust the mist jet needle to create a fine mist. (a white ring will be visible at the bore opening during drilling). Caution: NEVER rotate the drill outside of the hole. |
| Step 6) | Turn on the spindle, then start the feed. Chips should clear the bore continuously to depth. If packing occurs, reduce the feed. At depth, back off the bottom slightly if a blind hole then stop everything and remove the drill. Inspect the cutting edge often for wear. |