Sterling Gun Drills Media Releases
Gun Drilling on Swiss Type Machines
Swiss type CNC screw machines are used to produce small parts for medical appliances such as bone screws and a host of other precision parts, many with through holes.
Machines such as Citizen, Tsugami, Tornos, Star, Traub, Nexturn, Maier, Nomura, Element, Hanwah, Cubic Diamond, Ganesh and other CNC machines with similar capabilities are particularly well suited for gun drilling. Swiss type machines have very high pressure oil delivery systems that can be connected to gang-type stationary tool holders or piped directly into a gun drill's driver. The work rotates by bar feed or individually loaded parts.
Typical application drilling medical devices such as bone screws would be in 6Al4V Titanium or a 300 series Stainless Steel with hole diameters of 1.4 to 2mm and a 2" to 3" depth of cut (40-60x deep). Surely appearing as a daunting prospect when not aware of the Swiss machines unique ability to apply gun drills, jobs previously dismissed now become opportunities.
Sterling Gun Drills solid carbide flute gun drills are manufactured in our Vermont plant to specific requirements of the machine and application in diameters from 1.1mm to 4.1mm. The "driver" of the gun drill and can be an inch or metric plain diameter for sealed collets, or an inch or metric diameter with set screw flat and/or pipe tap for direct fit into the Swiss type's tool holder with high pressure oil connection. The Swiss type's working envelope is typically confined and applications will have specific diameter and depth requirements, so "standard" gun drills are unlikely. Call or email Sterling Gun Drills to determine exact gun drill specification and operating parameters. Manufacture lead time is four weeks or 7-10 day "rush" manufacture option.
Worth consideration is a device made by M4 Sciences, www.M4Sciences.com. TriboMAM*, introduces a controlled oscillation feed into the drilling process to break up chips and allows significantly increased feed rates. Somewhat pricey at $28 to $35k, TriboMAM can more than double the feed and allow one machine to produce more product than from two machines without the device. $30k factors well when compared to additional machines, space requirements and personnel.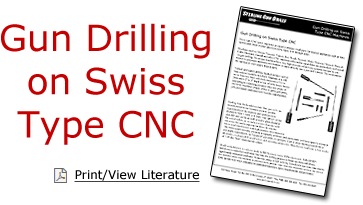 Learn more about Gun Drilling.
Doug Holley, General Manager
Sterling Gun Drills, Inc. North Bennington, VT.
Toll Free: (888) 338-1049 • Phone: (802) 442-3525 • Fax: (802) 442-6225
Company Website: www.SterlingGunDrills.com