Sterling Gun Drills Media Releases
Product - DM-42-D Inserts for the DM-42
Manual Sharpening Fixture
New Product, the DM-42 Manual Sharpening Fixture now has available DM-42-D Inserts that make the re-sharpening of gun drills from 5/32" (4mm) to 2 1/8" (54mm) diameter possible with one fixture!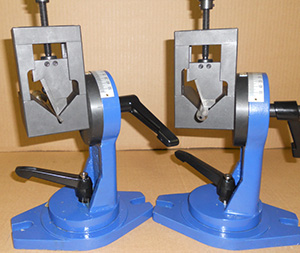 In 2011, Sterling Gun Drills, Inc. announced a new sharpening head for single flute gun drills to increase the drill diameter range for our Manual Regrind Fixtures to 2 1/8" (54mm). In review:
The DM-42, Large Manual Sharpening fixture, has a range of .75" (19mm) to approx. 2 1/8" (54mm), and is offered complete with a cast iron base assembly for $1770.00. No additional collets or adapters are necessary to sharpen single flute gun drills of any manufacture with the popular "facet" nose grind to virtually any configuration required. The "V" shape of the gun drill's flute can vary from 105º to 120º between manufacturers. The DM-42-A fixture has a fine adjustment feature built into the clamping wedge to allow leveling the cutting face. A 1/8" hex key is furnished for this purpose. Access is through a slot in the side rail.
The DM-42-A, Sharpening Head (Large), is offered as an option for earlier DM-41 Manual Regrind Fixture's however, strengthening of the clamping screws and handles for units in service prior to mid-2011 is recommended. M10 x 1.5 vertical and horizontal adjustment studs and handles of the earlier fixture can be increased in size to a M12 x 1.75 or ½ x 13 thread along with larger locking handles. Modification is available from Sterling Gun Drills for $199.00. The DM-41 and DM-42 fixture bases from mid-2011 onward have this modification as standard.
New for 2012, DM-42-I Inserts that use the 10-32 x 5/8" "fine adjustment" button head cap screw from the clamping wedge of the DM-42. Using the 1/8" hex key through the access slot, remove the button head screw and use it to attach the #1 Insert for sharpening gun drills from .156" (4mm) to 15/32" (12mm). A #2 Insert is used to sharpen gun drills from 15/32" (12mm) to ¾" (19mm). Remove the Insert if fitted, for sharpening ¾" (19mm) and larger gun drills. The "fine adjustment" feature is not required on gun drills below ¾" (19mm).
Existing sharpening instruction is suitable for all diameters. Step by step instruction and a YouTube video on our Website details the sharpening process.
Part # reference & pricing:
DM-41 Manual Regrind Fixture (std.)
DM-41-A Head Assy. (std.)
DM-42 Manual Regrind Fixture (large)
DM-42-A Head Assy. (large)
DM-42-B Base Assy. (large clamping)
DM-42-C Manual Regrind Fixture including both DM-42-A and DM-41-A Head to allow gun drill sharpening from .156 (4mm) to 2.125" (54mm) Changeover of the standard DM-41-A to the DM-42-A "large" sharpening head involves just two screws to swap the vertical register from one fixture to the other.
DM-42-D Manual Regrind Fixture including DM-42-I Inserts allows gun drill sharpening from .156 (4mm) to 2.125" (54mm)
DM-42-I Inserts for DM-42
Doug Holley, General Manager
Sterling Gun Drills, Inc. North Bennington, VT.
Toll Free: (888) 338-1049 • Phone: (802) 442-3525 • Fax: (802) 442-6225
Company Website: www.SterlingGunDrills.com