Sterling Gun Drills Media Releases
DM-42 Sharpening Head for Gun Drills
For Gun Drills up to 2 1/8" Diameter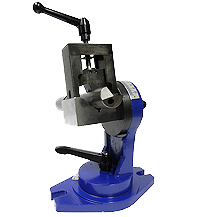 Sterling Gun Drills, Inc. announces a new sharpening head for single flute gun drills to increase the range of our Manual Regrind Fixtures to over 2 1/8" (54mm).
Part # DM-42 Large Manual Sharpening fixture has a range of .75" (19mm) to approx. 2 1/8" (54mm), and is offered complete with the base assembly.
Part # DM-42-A, Large Sharpening Head, is offered as an option* for the DM-41 Manual Regrind Fixture.
No additional collets or adapters are necessary to sharpen single flute gun drills of any manufacture with the popular "facet" nose grind to virtually any configuration required.
Changeover of the standard sharpening head DM-41-A to the DM-42. A large sharpening head on the base fixture involves just two screws to swap the vertical register from the standard fixture to the large fixture.
Due to variation in flute shape from size to size and from one manufacturer to another, a fine adjustment feature is built into the clamping wedge that allows leveling the cutting face on gun drills with flute angles from 105º - 120º. A 1/8" hex key is furnished for this purpose.
Existing sharpening instruction is suitable for all diameters.
Part# reference
DM-42
Manual Regrind Fixture (large)
DM-41
Manual Regring Fixture (std.)
 
 
DM-42-A
Head Assy. (large)
DM-41-A
Head Assy. (std.)
 
 
DM-42-B
Base Assy. 
 
 
DM-42 + DM-41 A Head assy. Includes the "large" fixture base assy., large head, and standard head allowing gun drill sharpening from .156 (4mm) to 2.125" (54mm).
 
 
Doug Holley, General Manager
Sterling Gun Drills, Inc. North Bennington, VT.
Toll Free: (888) 338-1049 • Phone: (802) 442-3525 • Fax: (802) 442-6225
Company Website: www.SterlingGunDrills.com